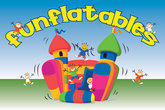 914-572-3041
Delivery Time:
A member of our team will contact you by 7:00 pm the day before your rental to let you know what time to expect your inflatable setup. Set up is generally 1 to 2 hours prior to your rental time. However, due to the number of deliveries that day, we may need to set up as early as 4 hours in advance.
Cancellations:
Customers will receive a full refund of their deposit when they cancel their booked inflatable 8 days or more prior to their booked date. Customers who cancel 7 days or less before their booked date will receive a raincheck for their deposit. This raincheck can be used to reserve an inflatable for another date for up to one year. Once we´ve set up, we do not give refunds for any reason including weather.
Weather:
Unfortunately we cannot control the weather!!! Therefore, a customer can cancel their rental due to poor weather conditions. Funflatables also reserves the right to cancel an inflatable rental due to poor weather condtions if we believe them to be unsafe. Cancellations due to poor weather conditions will result in a full refund of deposit.
Some examples of poor weather conditions are high winds, excessive rain, snow, and lightning.
Copyright 2010, Fun 'Flatables Corp.(tm) 914-572-3041